International tournament: Görlitz 1952
Information
[ Basic data | Tournament results | Tournament review ]
---
Basic data
International tournament
Date:
13th - 15th April 1952
City:
Görlitz, East Germany
Venue:
The Stadt Dresden hotel
Chairman of Organizing Committee:
Mr. Otto Arno (GDR)
Arbiters:
Mr. Sandor Füllöp (HUN),
Mr. Czesław Krulisch (POL),
Mr. Burzlaff (GDR)
Game system:
Eight board Round Robin
Tie-breaks:
Game points
Downloadable game file:
52gorlitz.zip
---
Tournament results
| | | | | | | | | | |
| --- | --- | --- | --- | --- | --- | --- | --- | --- | --- |
| no. | team | code | 1 | 2 | 3 | ∑ | + | = | - |
| 1. | Poland | POL | ● | 6 | 8½ | 14½ | 2 | 0 | 0 |
| 2. | Hungary | HUN | 4 | ● | 5 | 9 | 0 | 1 | 1 |
| 3. | East Germany | GDR | 1½ | 5 | ● | 6½ | 0 | 1 | 1 |
POL
Poland
8½ : 1½
East Germany
GDR
Śliwa
1 - 0
Pietzsch
Szapiel
1 - 0
Koch
Pytlakowski
1 - 0
Platz
Plater
1 - 0
Herrmann
Makarczyk
1 - 0
Elstner
Gadaliński
0 - 1
Kübart
Balcarek
1 - 0
Zirngibl
Gawlikowski
1 - 0
Nüsken
Tarnowski
½ - ½
Müller
Grynfeld
1 - 0
Mrs. Keller-Herrmann
POL
Poland
6 : 4
Hungary
HUN
Śliwa
½ - ½
Szabó
Szapiel
½ - ½
Barcza
Pytlakowski
1 - 0
Benkő
Plater
½ - ½
Szily
Makarczyk
0 - 1
Bakonyi
Gadaliński
1 - 0
Asztalos
Balcarek
½ - ½
Szilágyi
Gawlikowski
1 - 0
Füster
Tarnowski
½ - ½
Köberl
Grynfeld
½ - ½
Pogáts
HUN
Hungary
5 : 5
East Germany
GDR
Szabó
1 - 0
Pietzsch
Barcza
½ - ½
Koch
Benkő
½ - ½
Platz
Szily
½ - ½
Herrmann
Bakonyi
1 - 0
Elstner
Asztalos
½ - ½
Kübart
Szilágyi
½ - ½
Zirngibl
Füster
0 - 1
Nüsken
Köberl
0 - 1
Müller
Pogáts
½ - ½
Mrs. Keller-Herrmann
The following two matches were played as friendlies:
GDR2
East Germany "B"
4 : 6
Poland
POL
Uhlmann
1 - 0
Śliwa
Kirchhammer
½ - ½
Szapiel
Vordank
½ - ½
Pytlakowski
Fuchs
0 - 1
Plater
Budrich
½ - ½
Makarczyk
Hunte
½ - ½
Gadaliński
Knothe
½ - ½
Balcarek
Seiffert
0 - 1
Gawlikowski
Rathai
0 - 1
Tarnowski
Brüchner
½ - ½
Grynfeld
GDR
East Germany
8½ : 1½
East Germany "B"
GDR2
...
---
Tournament review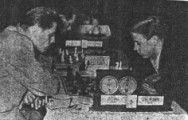 Four Eastern European teams were invited to participate but Czechoslovakia did not arrive and the hosts offered their reserves to replace the absentees. The Hungarians opposed but not the Poles and GDR "B" entered a mini-tournament along with GDR "A" and Poland.
All the teams sent strongest line-ups to Görlitz, a small city near the border with Poland. Hungary were by far the best team on paper. Poland created huge sensation, arguably achieving all-time best result in a team event, comparable to pre-war Olympic medals. Not only they wiped out firm German team by 8½-1½, but first of all they defeated Hungary 6-4. The Hungarians were poor shaped as they only managed to tie vs East Germany. Results of an unofficial "sub-tournament" with exclusion of Hungarian team's results were as follows: Poland 14½, GDR 10, GDR "B" 5½.