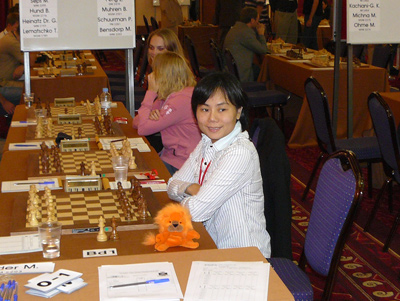 Twenty-nine teams arrived to take part in the women's event. Top seeds were Russia (2481), Georgia (2460) and Ukraine (2459). Top rated participants were Russian #1 GM Kosteniuk (2515) and former World Champion, GM Chiburdanidze (2500). The first round saw a lot of surprising results. Georgia went down 1½-2½ against Lithuania and the young team of Azerbaijan beat Ukraine with the same result. Top seeded Russia achieved a comfortable 3½-½ in their match with Israel and Hungary beat Turkey 3-1.
Russia defeated Armenia in a top clash of day two. Alexandra Kosteniuk brought the first point against Elina Danielian. However, last board WIM Andriasian surprised the 200 ELO higher rated IM Korbut to get Armenia back in the match. Things got even more complicated when IM Nadezhda Kosintseva drew with IM Mkrtchian. It was IM Kovalevskaya who brought the final victory for Russia with a win on board 3. The higher rated team of France was surprised by tough Spanish opposition to take modest 2½-1½ win. Poland achieved a convincing victory against the strong team of Azerbaijan. Bulgaria, led by the ex world champion Antoaneta Stefanova, had a difficult day against Germany to win by the smallest possible margin.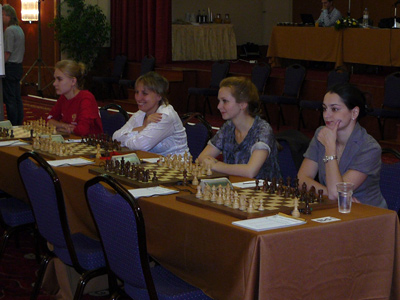 The derby matches in the women section carried huge tension through the day three, but the Russians came on the top with a stunning 3½-½ victory against Bulgaria. Hungary on the second board demolished strong France with the same result. Zhaoqin Peng beat Soćko on the first board in Netherlands-Poland but Rajlich and Przeździecka turned the tables in Poland's favour. Slovenia-Serbia and Romania-Lithuania ended in a 2-2 tie. Germany's 3rd and 4rth board WGM Michna and WFM Ohme could not beat their Armenian opponents and in spite of IM Pähtz and IM Kachiani's wins, both teams split the points. Ukraine crushed Israel with three wins and a draw.
In round four defending champions Poland took over the sole lead after soundly beating France 3-1. Executors were IM Soćko and WIM Przeździecka. Russia was held to 2-2 tie (four draws) by the marvelous Hungary. Georgia came back on track, beating solid Serbia by 3½-½, while Ukraine was stopped by motivated Netherlands where all four games were drawn. Slovenia's lower boards brought the tight 2½-1½ win against Romania.
Poland dropped their first point on day five, but since it was against their main rivals Russia, the draw left the top of the table unchanged. The winners were Iweta Rajlich for Poland and Ekaterina Korbut for Russia. Georgia defeated Greece "A" with a 3-1 score to catch the Russians in second place, while Slovenia did the same with a 2½-1½ victory over Hungary.
Georgia and Poland made four draws on the top table in round 6. Russia's team immediately seized opportunity to catch up with Poland on first place sending Slovenia home with 3½-½. Ukraine wisely used white pieces against Hungary, achieving two wins and two draws for 3-1. Greece and France exchanged one win each for a 2-2 tie, while the Netherlands blasted the higher rated Serbia 3½-½. Bulgaria seemed to be in good shape demolishing the solid team of Spain with 4-0.
Both Poland and Russia have won their round 7 matches, staying tied on the top of the crosstable with only half a point advantage for Poland on tie-breaking. Russia met the equally strong team of Georgia and it was to be expected that most of the games would be draws. However, IM Ekaterina Korbut outplayed IM Maia Lomineishvili and gave Russia 2½-1½ win. Ukraine managed get two draws from the powerful Polish team, but IM Rajlich and IM Dworakowska brought Poland the 3-1 victory in the match. The Netherlands managed to win over Slovenia with 2½-1½ and ranked third in the standings right after Poland and Russia. Armenia outperformed Bulgaria by drawing the black boards and winning the white, scored 3-1 and took the fifth place in the ranking. Azerbaijan held France to 2-2 thanks to WGM T.Mamedyarova's win on the third board.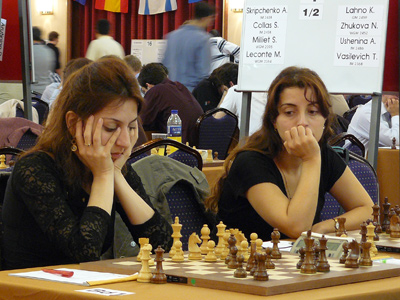 Russia's women team found themselves a step away from the gold medal after a convincing win 3½-½ against the Netherlands on penultimate day. Poland's team spirit was not enough to secure a win against Armenia and IM Mkrtchian took away the 2½-1½ victory for Armenia on board two. Georgia beat Hungary by the same margin and Ukraine stormed through France 3-1. Germany crushed Spain with three wins and a draw, scoring 3½-½. Standings: Russia 14, Poland and Armenia 12, Georgia and Ukraine 11, Slovenia, Romania, Germany, and Netherlands 10.
On the last day Russian ladies were having a tough race with the Ukraine, but all in all drew to take their first ever European Team Championship gold, while Ukraine finished in fourth. Poland halved with Romania and still managed to capture the silver medals on better tie-splitting (game points). Armenia resisted famous Georgians and since Ukraine didn't win against Russia, girls from Yerevan started celebrating bronze medals.
Best individual result was scored by Němcová of the Czech Republic - 7½/9 while two players to complete a set of 9 games with no loss were Fakhiridou (Greece) and Lahno (Ukraine). Dutch board #1 Zhaoqin Peng managed to keep the highest performance rating of the tournament (2597) as well as gold medal at her board despite losing her last two games (!). The Russians won five individual medals but no single gold - these were taken by Dutch, Czech, Ukrainian, Georgian and Spanish girls, respectively.
/ Reports taken mostly from chessdom.com /