The "Match of the New Century" took place in Moscow in September of 2002 between 10 players from Russia and 10 from the Rest of the World plus 2 reserve players for each team. The match ran under the Scheveningen System in which each player faces all the members of the opposing team once while the two reserves per team may be called in to replace any player of their team.
Russia now played as the erstwhile U.S.S.R. or Soviet Union that has won both the previous matches in Belgrade in 1970 and in London in 1984. Former World Champions Anatoly Karpov and Garry Kasparov were the only players remaining from the 1984 London match.
Russia with its powerhouse cast of World Champions and a supporting crew of young and highly rated super-grandmasters were favoured to win the match. Russian lineup consisted of four world title holders: Vladimir Kramnik, the then World Champion, ex-World Champion Garry Kasparov, the highest-rated player in the history, two-time former World Champion Anatoly Karpov and former FIDE champion GM Alexander Khalifman.
Meanwhile, the Rest of the World team boasted only of FIDE champion GM Ponomariov and former FIDE Champion Viswanathan Anand. Although they had upcoming world championship challenger GM Peter Leko in their line-up, they failed to get the services of GM Michael Adams of the United Kingdom and GM Veselin Topalov of Bulgaria. GM Ilia Smirin thus made it into the main team but the next logical replacements, GM Vladimir Akopian and GM Zurab Azmaiparashvilli remained reserve players. Tapped into the team instead was 15-year old prodigy GM Teimour Radjabov, the youngest player ever to enter the top 100.
Each side was allowed two substitutes, who could fill in anywhere, provided they didn't play anyone more than once. These were Rublevsky and Zviaginsev for the Russians and Akopian and Azmaiparashvili for the Rest of the World.
It is very interesting to note that only GM Anand (India), GM Leko (Hungary), GM Short (U.K.), and GM J. Polgar (Hungary) were the only real non-Soviets in the Rest of the World team.
If the event were to be more media and sponsor-friendly, some drastic format changes were required. Out of favour was the idea that combatants paired up only with their opposite number and engaged in a lengthy, psychological war of attrition. This might have appealed to the chess purist but did nothing for the casual observer or thrills-and-spills-hungry journalist. Furthermore, in order to make chess a viable spectator sport, it was widely believed short time limits and spectacular, rapid finishes were necessary elements. Then there was the difficult task of getting most of the planet's elite players in the same place at the same time. A lengthy tournament might discourage some from attending at all.
The finalised arrangements appeared to successfully cover all of the bases. A ten player, 10-round Scheveningen format, with a 25 minute (+10 second increment) time limit. This could be compressed into just 4 days with 2 or 3 rounds played each day.
The World took early lead winning round one by 6 to 4 with Ivanchuk beating Kasparov. In round 2 the World extended their lead to 11½-8½. Russia won round 3 to tighten the margin down to 14-16. In round 4 Russia edged another 5½-4½. Kasparov won his first game against his usual customer Shirov. Russia now trailed only by one game 19½-20½. Round 5 saw eight of ten games decisive yet the honours were shared 5-5 leaving the score at 24½-25½ to the World. The huge shock was Judit Polgar's first ever win against Garry Kasparov which sent him down to below 50%.
Round 6 saw another 5-5 draw leaving the score 30½-29½ in favour of the World. Judit Polgar was a pawn up with black against Vladimir Kramnik but this wasn't quite enough to win. Kasparov was a pawn down against short when they agreed a draw in the end. Wins for Gelfand and Shirov for World were matched by Russian wins for Bareev and Morozevich.
In round 7 Vladimir Kramnik lost with white against Ilya Smirin to go to -1 for the event. Garry Kasparov had a torrid time against Teimour Radjabov before drawing a tricky position. Russia tied the round 5-5 with Dreev beating Polgar matching Smirin's win there were 8 draws. Score Russia 34½ - World 35½.
Round 8: The end of day three saw the Rest of the World 3 points clear with 2 rounds to go. The most astonishing thing has been the form of the top two players in the World. Vladimir Kramnik lost for the second time in the event to go to a -1 score in round 7 and didn't play round 8. Garry Kasparov also struggled in round 7 just surviving against 15 year old Teimour Radjabov and then went on to lose dreadfully in round 8 to Vladimir Akopian in only 25 moves. He is now on a -2 score. In round 8 Boris Gelfand was the other winner for the World there were 8 draws.
Round 9 saw the Rest of the World win again 5½-4½ to give them a lead of 47-43 with one round to go, the Russians will have to win 7-3 to draw the match. Kasparov played Ponomariov and after a dubious sacrifice by the Ukrainian had the upper hand but his confidence seems to have taken a battering over the last few days and he steered the game to a draw. Anatoly Karpov beat Nigel Short in an ending that looked drawish but Leko beat Morozevich and Shirov's 4 pawns proved too much for Grischuk's rook in the game of the round.
Round 10 was drawn 5-5. Fantastic wins for Radjabov and Shirov helped the Rest of the World to a win in the match. Kasparov looked better against Anand but agreed a draw when short of time to finish on -2 for the event. Kramnik finished on -1 after drawing with Ponomariov. Karpov scored a somewhat fortunate win against Short and Dreev won against Smirin with black.
The Russians started strong favourites with an average rating of 2708 (2717 over the top ten boards) as opposed to 2695 (2699 top 10) but whereas Kasparov and Kramnik would normally between then be expected to deliver at least +5 (a pretty conservative figure) they in fact managed only -3 which on its own delivers the entire winning margin. Shirov's huge 7/10 (including his customary loss to Kasparov) and solid 6/10s from Gelfand, Ivanchuk and Ponomariov (1 loss by Gelfand between the three) were big parts of the victory as was the 5/10 scored by the lowest rated player in the event Teimour Radjabov. Perhaps Kasparov was right that the chances were balanced at the start of the match even though the World were without Adams and Topalov.
Game of the Day Prizes were the following:
Day 1: Vasyl Ivanchuk for the game against Garry Kasparov;
Day 2: Garry Kasparov for the game against Alexei Shirov;
Day 3: Alexei Shirov for the game against Alexander Motylev;
Day 4: Alexei Shirov for the game against Alexander Grischuk
* * *
Report by Yasser Seirawan
Moscow. The very name evokes images and streams of thought. Capital of the Soviet Union. The seat of power for the greatest empire on earth. Now the capital of a new Russia, still the largest country in the world. Moscow. Onion domes. Red Square. The Kremlin. Lenin's Tomb. Complications.
I've been invited to be the coach for the Rest Of the World (World) team, by no means an easy task. After all, this is a chess event. And organizing chess events, especially ones featuring the very best players, has become an extremely difficult undertaking. "Irena" — the voice on the other side of the phone, is from the Moscow Organizing Committee. Her voice betrays her anxiety. I hesitate to answer. Her voice fills the empty airwaves, — "Sorry to invite you at such a late date. Our first choice, Mr. Victor Kortschnoj, could not accept as he is playing in a match Switzerland against Germany."
Thanks for sharing, I muse.
"May I have twenty-four hours to think about it and clear my schedule?" — I ask.
"Certainly, but remember, you will need a visa," — comes the reply.
Yes. A Russian visa. I know the lines and procedures very well. My first visit to the Soviet Union was in 1979. While some things have gotten better, some things have stayed the same. Do I need the aggravation of a visa line? I comfort myself with the thought that it is even harder for Russians to visit the United States.
Clicking on the FIDE website I see the teams. Of the twenty seeded players, sixteen are native Russian speakers. Include the four reserve players and twenty of the twenty-four players speak Russian. What extraordinary dominance of our mind sport! I feel intimidated. I don't speak Russian. Even my, nyet sounds wrong. My speeches will be delivered in English.
Later, I learn that neither was I second choice. Former world champion Boris Spassky was also invited to coach the World team. He declined, explaining that as the former first player of the Soviet Team it would be improper that he should coach the World team. "I am for Russia," — he would tell me later.
I look again at my team. Two of our biggest guns, Michael Adams (ENG) and Veselin Topalov (BLG), are missing. Ouch! With their participation I like our chances. Without them, Russia is a clear favorite. Never mind that Russia will have home advantage as well. This could be a very harsh blow for the World Team.
A further surprise catches my eye and I go through the World Team names again. Where is Ye Jiangchuan of China? In the top twenty players by rating, he makes a perfect addition to the World Team. During my July trip to China I remember speaking with both Ye and Lin Feng, Secretary of the Chinese Chess Association, Ye had been invited and had accepted his invitation. Is the FIDE website updated, or did Ye withdraw?
Twenty-four hours pass quickly. The doubts have faded. Russia versus World are historic clashes. The first two events were fantastic. It will be an honor to be part of the third. I steel myself for the tasks of securing a visa and travel.
It soon becomes apparent that it is a new Russia. Irena of the organizing committee is incredible. Responsive to e-mail queries within hours. My necessary letter of invitation is faxed. Grudgingly my "Brother" fax machine slowly disgorges the document. The Russian Consulate in Seattle has also received a telex requesting that a visa be issued! The efficiency is astonishing. FIDE has been rightly criticized for communications problems. For this event, they are making serious amends.
The next day at the Seattle Russian Consulate, armed with photos, invitation letter, visa forms and passport, I exude confidence. The consulate officer inspecting my application suddenly bursts out laughing and can't stop. I freeze. What did I do wrong? No, everything is in order, what tickled his funny bone is the Russian wording on my letter of invitation. He translates for me. "It says, Russia against the whole world!" — And falls into laughter again.
"Today, Russia is finding our new place in the world and we want to cooperate with many nations. It is funny to read that we are against the whole world." — He pauses to ask, "What are our chances?" — Even the consulate officers play chess.
I'm delighted when he asks me for the visa charge of $110. A bit pricey for a simple permission to enter a country where I'm sure to do a lot of shopping. Nevertheless, the torture has turned to triumph and I happily depart. Russia has changed much.
The new Boeing 777 Aeroflot jet is landing in Moscow. A faultless ten-hour ride and somewhere down there is a smoke-filled Moscow. A dry hot summer has witnessed serious forest fires. Worse, peat-bog moss fires several meters deep have been slowly burning for days. Moscow is choked in smoke. I'm from Seattle and rain follows me wherever I go. Moscow will be glad to see me.
An intolerable one hour and thirty minute passport security check is counterbalanced by my waiting luggage and "Stanislav" my driver, who is all smiles. I'm whisked away to the Hotel Metropol. The annoyance of the passport check becomes a dying ember. The Hotel Metropol evokes old memories. Located right next to the Kremlin, it was the key layover stop for all foreign tourists visiting the Soviet Union. Back in 1979, I had waited two days for security checks clearing my travel to Riga, Latvia. It was not a cheerful place.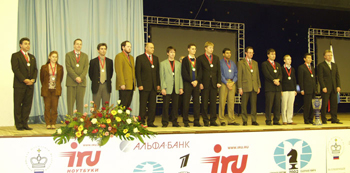 In the new Russia, the Metropol Hotel has been transformed back to its former glory. It has become a grand hotel with reasonable rooms, great pillows and good food. Passing the gift shop on my way to check in I approvingly note the wellstocked International Herald Tribune newspapers. Entering my room, the TV is switched on and channel one features CNN. Life is good. Struggling against jetlag. It is shower time. A meeting of arbiters, captains and coaches begins in thirty minutes, and it will be followed by a players' meeting one hour later. The business of conducting a chess tournament is at hand. Surprisingly, there are a number of important issues to be settled.
Kazakh GM Bulat Asanov, my key assistant, is at the meeting. We've met one another at many different events. He introduces himself, "My general! I am your assistant, your helper, your lieutenant!" He struggles with the pronunciation of this last one. "You must tell me what I must do!" His warmth is infectious and I'm completely won over. Over the coming days, Bulat will be an invaluable aid and I would come to rely upon him for all the mundane things as well as for common-sense advice.
The meeting begins. The format for the event is a single-game Scheveningen. Ten rounds of ten games each. The games will be Rapid Chess tempo. I'm pleased that the rate of play is the Grandmaster Committee recommended twenty-five minutes per player with ten seconds bonus added to the clock for each move made. The chief arbiter, Geurt Gijssen (The Netherlands), is also pleased with the time-control. The games can be conducted according to the Laws of Chess with the exception that the players aren't required to write their moves.
The Scheveningen format is the right one. The previous Russia versus World team matches were four games with board one playing only against board one, board two only playing against board two and so on. This system would not have worked in today's chess world. It would have been impossible to agree on the lineups! With each player playing against the entire other team, the line-ups are not important. The only crucial question is who will play the role of reserve players.
Reserve players are discussed. Each team has two. They can replace any player on any board but can only play against an opponent once. Our team captain, FIDE President Kirsan Iljumzhinov, has fixed the World Team and I'm surprised by his decision. The highly rated Vladimir Akopian (ARM) and Zurab Azmaiparashvili (GEO) are our reserves. The talented junior, Teimour Radjabov (AZB), the lowest rated player on our team is chosen as a seeded player. Quite a compliment as well as a challenge! Teimour is going to play a lot of games!
It is quickly agreed that the team captains will submit their line-ups at 11:30 AM. Critical issues of pairings and colors take center stage. With ten games per round, it seems pretty obvious that each team will have five Whites and five Blacks per round. Surprisingly, this doesn't work. In fact by dividing the colors, problems abound. To be certain of a 5-5 color split, the best method is to give the entire team Black or White for the round. This method will not do. Psychologically, the team with Black for all games in the last round will be in trouble, whether trying to hold a lead or overcoming a deficit.
We agree to divide colors for each round. A scheme of choosing the ten "sets" of pairings is made in order to prevent a particular board from ever having three Whites or three Blacks in a row.
We revisit the issue of submitting the team line-up. The ten rounds will be played over four days. Day 1, Opening Ceremony and two rounds. Day 2, three rounds. Day 3, three rounds. Day 4, two rounds and Closing Ceremony. We agree that for Days 1 and 4, where there are only two rounds of play, the captains will fix their line-ups in the morning. For Days 2 and day 3, the captains will submit their lineups for the first two rounds. They will submit their line-up for the last round of the day fifteen minutes after the second round is completed. This will allow the captains to rest a player who has had two long endings or in case of a poor performance.
We now discuss the procedure for claiming a draw by three-time repetition. As the players aren't keeping score, they will check the score sheet kept by an arbiter. Satisfied that a three-time repetition is possible, a player would stop the clock and then write the intended move on the score sheet. If the arbiter accepts the claim, the game is drawn. If the claim isn't accepted, the opponent receives a bonus of two extra minutes and a deduction of time is made against the player for making a false claim. The deduction penalty depends upon how much time is on a player's clock.
The last point is the appeals process. If a player wishes to appeal the decision of the arbiter, an appeal must be submitted in writing to the appeals committee, within one hour of the end of the round at the end of the day. The appeals committee, Florencio Campomanes (PHP), Georgios Makropoulos (GRC) and John McCrary (USA), will deliver its decision by 11 AM the following morning.
The exception is that in case an appeal is made during Round 9, it must be judged and completed prior to the start of the 10th and final round. The meeting has been brisk and business-like. The Russian Team Captain, Andrei Selivanov, introduces a moment of levity, "Why isn't there a Russian on the appeals committee?" — he asks. The answer, of course, is that the appeals committee is composed of persons from neutral countries. "Yes, but this is Russia versus the world. Which countries are neutral!?"
Soon the arbiters/captains/coaches' meeting morphs into a players' meeting and almost everyone is present. Alexey Orlov, President of the World Chess Foundation, presides. He begins by suggesting that the meeting be conducted in English. Works for me. Peter Svidler has torn a tendon in his foot playing soccer with Evgeny Bareev. I thank Evgeny for all his help. Peter's status is a bit unclear: hospitalized or able to play? I'm given the impression that he may not play too many games. Vassily Ivanchuk is absent but I'm assured he will arrive in time.
Vishy Anand and Aruna are beaming with happiness. When asked why, Vishy confides, "I've just been told it is a single round robin. I thought it was a double round robin." We laugh and I think that Vishy must love to play chess. Two hundred games? I'd collapse watching them.
Later that evening, I meet up with GMs Nigel Short, Maxim Dlugy, Joël Lautier and Dirk Jan ten Geuzendam, editor-in-chief of New In Chess magazine. It is a pleasure to see Max. He stopped playing chess as a pro nearly ten years ago. We've rarely bumped into one another since. The last time I saw Max was at the blackjack tables in Vegas. He was playing perfect basic strategy but the cards weren't being friendly. He explained that he had been in an auto accident in the Ural Mountains and had suffered a terrible foot injury. His hospital room had been converted into a makeshift command bunker replete with private phone and Internet connections so that he could stay in touch with his employees. It was really good to see him again and we teased one another about our graying hair.
Not to be outdone, Nigel explained that he too had been hospitalized in Greece. After returning from China, he had felt poorly and checked himself into a hospital. During a stop in Malaysia, Nigel had suffered a very severe bout of food poisoning and his liver had been affected. Nigel was told to stop drinking alcohol for a time while his liver recovered. All the talk of hospitals was discomforting. We are getting older.
Sunday, September 8th, Day 1
Breakfast with Teimour and I'm completely impressed by his remarkable maturity and pleasant manners. His parents can be rightfully proud. I submit the team line-up on time, learning that Chief Arbiter Geurt Gijssen stayed up until 4 AM with his Excel spreadsheets working on the pairings. At last, satisfied that he had found the very best method of pairings, he submitted a revised schedule to the captains and coaches. We congratulated Geurt on his fine work and approved the revised schedule. The new schedule meant that in round ten, Anand – Kasparov and Ponomariov – Kramnik would be the featured match-ups. A chess fan's delight!
Our line-up for day one was without any changes, as I strongly believe in testing the top players at the start in order to measure their form. With twelve superb grandmasters any ten could play, but now was the time to put Kirsan's choices to the test.
Russia elects to employ its reserve players for both rounds. I inform the affected team members of the changes. Speaking with Peter Leko who will face both Kramnik and Kasparov, I tell him not to worry and that after today his schedule will get easier. A smile and a cheerful, "Hope so!" was my reward. The team is set and spirits are high. It is strange to realize that all the organizational details have been swept away now it comes down to playing chess and the World Team is anxious for battle. Everyone wants to play! All I have to do is tap the breaks.
Last-minute rushing mars the walk at 2:30 PM to the Kremlin. There are missing passes but the ten-minute walk is nice. The security checks, however, aren't. First one passport check and a walk up the bridge to the building, the Kremlin Palace, that hosts the event. Another check this time of my pass. Up five escalators and a check of my pass at each floor before the final check entering the playing room. It all went well but heaven help those who forget their proper badges.
The playing room is enormous. A large stage has two huge projection screens; the masters play in a sunken area just beneath the stage, with a very large seated audience fanning away from the stage. A rope and security guards separate the players from the crowds. People are standing everywhere and the speeches have begun. VIP room, player rooms, organizer rooms, press centers, restaurants on both sides, large wallboards and booksellers are all set up. The spectators are sprinkled with champions. Lots of champions! Some women champions are introduced and I see the flock of white hair for both Spassky and Smyslov. I'm proud to know them.
Bulat has been moving me around, introducing me to everyone, gathering information for bulletins, programs and so on. He is remarkably well networked. From the security guards, the players, the organizers, journalists and fans, everyone is introduced to me as, "My General, this is my friend..." The rounds begin.
Match Strategy
In such competitions there isn't too much strategy to be done. It is a question of winning. Pure and simple, put in the players who are delivering the points and take out those who stumble. All very basic, but it's not that easy. One hundred games are to be played and that means that the original list of ten players will have to play a lot. Reserve players will have to be used but also sparingly. It isn't easy for them to jump around playing different players round after round. Our topten line-up benefits by knowing its schedule and who to expect. A reserve player needs warning before being parachuted into the game.
The reserve players will have to catch the most difficult opponents. They need as much advance warning as possible to handle the assigned tasks. It's no easy assignment to get tossed the black pieces and tackle a 2700- or 2800-rated player!
Bulat and I start to plot concretely. The first thing that we realize is we absolutely have to stop Garry Kimovich Kasparov. In the recent Europe versus Asia Match in Batumi, Georgia, he scored a hair-raising eleven points from twelve games. If he goes plus ten in this competition we can just give up! The Russian Team will ride his success to an easy victory. We have to stop Garry, but how?
It is surprising, but I personally find two games of Rapid Chess lasting two hours each to be as exhausting as a five-hour and even a six-hour game. I suppose the reason for this is the different pressures. For instance, in a five-hour game, you could be defending a closed Ruy Lopez. Essentially for hours you understand where you are blocking, the tactics and the strategy of the position. Time pressure comes and goes and you keep the position. Good tough defense and a well-fought draw! Excellent.
In the two games of Rapid Chess, the play can be wholly different. If White, you are pressing to win, you take risks, you get an edge, you hope, and you press for victory. In the second game the pressures are all different and you may be defending a razor sharp position, calculating reams of tactics. You're living on the razor's edge. All of which is concentrated into a small amount of time. Your calculation skills are on maximum overdrive throughout.
Taking a look at the schedule; on two days there are three rounds of play. The implication is absolutely clear: For the third round of play, the players will be exhausted. It is here that we will put a completely fresh body against Garry and go for the gusto in the third game for both of these days.
It is a risky strategy to stake out such a position, to stop a single player, but Bulat agrees we have no choice. Garry can smack us to smithereens. Only Alexander Morozevich has such an ability to run up a huge plus score. This strategy might also yield a hidden benefit, if we can stop Garry, it will come as a surprise to the Russian Team. Where will they extract their points? It is strange to muse that we will have to attack the Russian Team at the very fountain of their strength. Russia will be counting on Garry to deliver a plus three or plus four result. He has always delivered. It will come as a shock when Garry isn't leading the scorers' table. The Captain will want to criticize his charges but how?
The second round ends, we have made a fantastic start, just what we needed! After two rounds we lead "+3." While Anand took top honors with two wins, it was the victory of Vassily Ivanchuk over Garry Kasparov in round one that was the most uplifting! The team can't wait to get back to the hotel to enjoy the glow of the day. Bulat and I schedule our team meeting for 10 PM. I sense the apprehension of the players as we deliver the bad news of the team meeting. As a player I hate any kind of disturbance. Team meetings are generally tolerable, especially if the team has won. Sometimes, however, they can drone on and be counter-productive. I resolve to be quick and business-like for our meetings and let the players get back to their preparations.
On my way back to the hotel, I'm suddenly swooped up by the organizers and am on a bus to a Russian restaurant with 30 people. The 10 PM meeting time is worrying. I'm relieved that Kirsan is at the dinner and that he is equally anxious to join the team meeting on time. I tell Bulat not to let me overindulge. No problem… The meal is served and Polina, the FIDE Secretary-Assistant, informs me that she will call the hotel and speak to the players; the meeting will be postponed one hour until 11 PM.
I know I'm in trouble with my Team and profuse apologies are in order. Kirsan has a solution; I should go now, he will be right behind me after he says his goodbyes to his guests. A bottle of champagne is in store for our top scorer for the day, Vishy. Excellent. Bulat arranges the car and we rush to meet our Team. Apologies were made to one and all as we met in one of the many banquet rooms of the Hotel. I explain our strategy. We have to stop Garry. As promised, our Team Captain, Kirsan, soon joins us. The meeting is a very good one. Spirits are high. The champagne is gratefully received.
I re-emphasize the plan of stopping Garry. Although Judit has lost both her games, everyone must be gainfully employed. We cannot afford to lose Judit. I explain that she will be rested for rounds three and four but she has to focus for White against Kasparov. He will be tired and she should get as much rest as possible and prepare well. She must come to the game with energy. Judit is a fighter and she hates being taken out of the line-up but she accepts the decision.
We check Garry's schedule. It isn't pretty. Our team is filled with Garry's best customers. Shirov, Short and others have terrible records against Garry. While Akopian has three draws to his credit in three games, only Ivanchuk in recent years has done well. In fact, Vassily has already won! We make plans to change Nigel's fifth round game against Garry as Black with Akopian. A stern test indeed. Akopian asks for a warm-up game. The meeting breaks up later than intended but it was a good one and everyone anxiously awaits tomorrow.
Monday, September 9th, Day 2
It is strange, I feel like I've fallen into a rhythm and I've only just arrived. Another accidental breakfast with Teimour and I submit the line-up. I've used both reserves to replace Judit. Hopefully the Russian Team will draw the wrong conclusions and believe that Judit will be out of the line-up for the day. I wonder what Garry will think.
Bulat and I walk together to the tournament hall. Moscow is grateful for the rain.
Round three goes well; we break even. Fifty percent and we keep our lead intact. Gelfand manages to hang on with White against Garry, who is beginning to wear his frustrations. I didn't see a clear win for Garry, but no one would want to defend Boris' position. I congratulate Boris for his sterling defense and he shows his relief with a broad smile.
Round four: our lead shrinks as the Russian Team wins the round. We are now plus one. Alexei Shirov has lost in customary fashion to Kasparov in yet another excellent game. We joke that with this obligatory loss behind him Alexei can concentrate on the rest of his field. I'm completely mystified how such a superb player as Alexei can lose game after game to Garry. I want to check the lighting and the chairs but bite my tongue. It would be nice to give the appeals committee something to do. I plot mischief.
Round five, the big moment, the world's number one rated player versus the world's number one rated female player. I pace back and forth behind the games throughout. Garry has chosen the Berlin Defense. I sense that he didn't have the energy for a sharp Sicilian but the Berlin Defense – which cost him his title – doesn't suit his style. I think back to the US Open in Hawaii in 1998. Judit as White won in impressive style against Joel Benjamin in a key game. Her preparation is ruined but she knows the lines well. Garry grows increasingly annoyed and with g2-g4 White is better. It is hard to watch as I'm trying to will Judit to win! In my lifetime, I doubted that a woman would ever beat the highest ranked chess player.
Judit does the impossible. A game of complete domination that left no doubts; she wins. I give her a big hug. A happy smile and she tells me, "I'm back in business!"
The round sees an incredible number of decisive games. Folks are blundering all over the place. The counting is hard but we have split the round. After day two, we cling to a slim one-point lead. Yes, we lost today's battles, but we have gained a lot of confidence for the whole war. Judit's victory is an inspiration! Maybe it was my imagination but the women in the audience seemed to be smiling as well.
At the team meeting, a chorus of cries for the bulletins can be heard. I'm pleased that Bulat has me well armed. Unfortunately, I receive an unpleasant surprise. Vishy, who lost in game five, needs a break. With five games on his remaining schedule he wants to sit for one of them. The choice is mine. There is no way to rest him for day four. He must rest either in round 6 or 8. It would make no sense to rest him for the middle round 7 game. In round 8, his opponent is likely to be tired. I elect to skip him for round 6, but I have a problem. This is the round that Nigel will have to play Black against Kasparov and I wanted to use a reserve player. I know that Akopian must play against Kasparov, and Nigel makes a key decision; Judit's victory has caused him to rethink. He is willing to play Garry with Black. He has a defense in mind and Victor Kortchnoi has just arrived. Can Victor help him prepare? Victor is ready, willing and able. Our players make their appointments to visit his room. The battles have been thrilling and we are buoyed by our lead.
Tuesday, September 10th Day 3
I miss Teimour, my usual breakfast partner, and talk with the other players and FIDE officials. I've brought some papers for FIDE's Presidential Board to consider. It is an agenda containing a range of ideas from reorganizing elite events, grand prix, world series, grand slams, Olympiad, scholastic chess and the need for a public relations campaign, as well as FIDE governance reforms. The agenda for the 21st century is over-reaching but now is the time to shoot for the moon.
Bulat arranges everything for a visit to the Kalmyk Embassy in Moscow, where the FIDE Presidential Board is meeting, and I deliver my documents as well as brochures for America's Foundation For Chess. I'm back in time to deliver my line-up and the Russians have made only one substitution. Like myself, they're surprised to see Vishy out of the line-up and their confusion causes me comfort.
Round six is another 5-5 split. Teimour loses for the third time and he has a very tough round seven, Black with Kasparov. The die is cast; nothing to be done.
The game I focus upon is Kasparov – Short. Having participated in the preparation between Victor and Nigel and I have the feeling that Nigel is using one truly crummy defense. I'm comforted by the thought that Garry is going to try to lash out and destroy the variation, but, it isn't going to be easy and especially in a Rapid Game. As expected, the provocation works and Garry goes on the offensive, sacrificing a pawn to seize the initiative. Nigel's pieces are passive but he is a pawn to the good and is as concentrated as I've ever seen him. Trades ease the pressure and in no time, Nigel is playing from a position of strength. Garry has to play for the draw and our 5-5 split feels like a triumph.
Round seven is another even split but this one was terribly frustrating. Our positions were excellent and I had nearly chalked a 6 – 4 victory. Teimour played a beautiful game against Garry and was completely winning at several moments. It was a Houdini-like escape for Garry. I'm constantly reminded of the laws of competitive sports, "If you don't seize your chances, your opponent will!" I face round eight with trepidation. Bulat is there to calm me down.
Round eight: someone pinch me and wake me up. On second thought don't! I watch with disbelieving eyes. Gelfand plays a beautiful control game to down former World Champion Khalifman while Vladimir Akopian, who lost his first two games, is in the fight of the round against Kasparov. I must have walked a few kilometers during the round but it was worth it. After gaining a small edge Garry bets his position on a Kingside attack. The move g2-g3 comes as a showstopper. Vladimir seizes control of the position and scores an emphatic win. It was another heavy blow against the Russian Team. Better still, we had regained the lead of day one to go back to plus three! The Team is jubilant.
The post-game press conference, hosted by Alexander Roshal, editor of 64 chess magazine, seemed to be at a loss for words for the assembled press. "How can our combined Champions of Kasparov, Kramnik, Karpov and Khalifman score minus 6?", he asks. "I don't know", I answer, "But I am grateful!"
Wednesday, September 11th, Day 4
A gathering before the storm. That was my foreboding facing the day. I've played in many competitions where the Russian Team has responded in the clutch with their very best chess in the crucial final round(s). Victor Kortschnoj would be working overtime and everyone felt the seriousness of the situation. Once more, I would be depending upon our original line-up, substituting only Judit in round nine. Zurab Azmaiparashvili had proven himself extremely reliable, having been sent into battle with strict orders to score a needed draw. He had accomplished precisely what had been asked.
The crowds watching the games are large and knowledgeable. Nearly everyone was gathered to see a resurgent Russian Team prove themselves once more. I spotted chess legend David Bronstein in the audience and shared a few moments with him. I feel sadness; David is a treasure who has been put aside. If I could, I'd have him lecturing and teaching every day of his life...
Round 9, what a round! Things looked terrible, Shirov was fighting a lost cause against Grishuk, while Kasparov was calculating a forced win against Ponomariov. Matters only looked good on Leko's board and I hovered closely there for comfort. Peter Leko is an incredibly professional player, well dressed, well prepared for each game; he was the only player to inform me of draw offers. Each time I would advise Peter to make his own decision. Against Morozevich he chose to play on and achieved an excellent victory.
Somehow, our bad positions turned into draws as first Kasparov missed a win and Grishuk allowed Alexei to slip away. In an unbelievable turnaround, characteristic of Shirov's games, he managed to win again. Incredibly enough, going into the last round we had increased our lead to plus four!
Before play had begun, my goal had been to make the competition close. If our Team could go into the last round causing a dramatic finale my job would have been well done. My greatest fear had been that the Russian Team would run away with victory. Now the World Team held a big lead going into the last ten games.
Round 10: the first game to be completed was Shirov's devastating win over Peter Svidler. Alexei scored a fantastic 7 points from 10 games, making him the top scorer in the whole competition. I was very proud and happy for him! Unfortunately, it seemed to be the only bright spot of the round. There were some very bad looking positions going down the other boards. The chess goddess, Caissa, was with us and once more we slipped away from a heavy defeat to earn a 5 – 5 split. The World team could hardly believe the result having scored a tremendous upset, winning 52-48. The post-game press conference was surreal, with everyone expecting an explanation...
The closing ceremony was jam-packed with people yet was one of the most muted I've ever attended. The applause levels only rose to honor the legends Andrei Lilienthal, Vassily Smyslov, David Bronstein, Boris Spassky and Victor Kortschnoj. During the closing ceremony there was a great deal of discussion about a rematch. That was uplifting! Our victory may have meant that we won't have to wait a mean average of 15 years in between these competitions. After all, they are wonderful...
Closing Banquet
The closing banquet was a nice affair with all the assembled enjoying toasts and food. Organizers, arbiters, players, guests and fans bumped around together as autograph seekers were in abundance. While folks were having a good time, Kirsan slipped his team out into one of the adjoining rooms.
Kirsan hosted the World team in a private room once used by the Soviet Politburo for a champagne toast. It is called the "Red Carpet" room and was beautifully adorned. There we all toasted one another, sharing the special moments that we all seemed to have experienced in abundance. We all congratulated one another. It was a very uplifting moment and one of the most enjoyable that I've experienced in the chess world. Victory is sweet!
In closing, special thanks to the Moscow sponsors and organizers, to our captain and team members. You were all terrific. Thank you very much!
/ Taken from www.chesscafe.com /